The old roof on The Sacred Garden was either filthy (aka DARK), or leaking or non-existent.
After a monumental outpouring of love and support from the community, we were able to raise enough money to replace 2/3rds of the roof! IT IS BEAUTIFUL!  We power-washed the remaining old roof to bring in more light and put up new, clear polycarbonate on the other parts. It has created a giant skylight akin to a glass cathedral!
LET THERE BE LIGHT!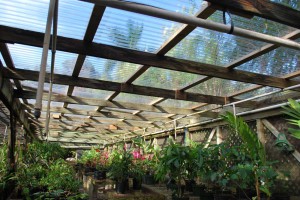 A special thanks to the guys who dedicated their time to getting the new roof up! And Immense GRATITUDE to those of you who helped sponsor the roof!
If you would like to contribute  to the remainder of the roof, we would greatly appreciate your continued support!