What to do while visiting the garden?
Make Memories!
Get inspired! The nursery is full of fun, creative ideas! Whether you just want to bask in the presence of unique tropical plants and  beautiful orchids, or get inspired to create your own sacred garden at home, The Sacred Garden on Maui will fill you with ideas while filling you with peace!
Have kids? They will love it here, too! Please just keep an eye on them..this is "real nature" and we ask that you enjoy it at your own risk! We love kids in the garden and we request that you monitor them for their safety and the safety of the garden/plants/animals.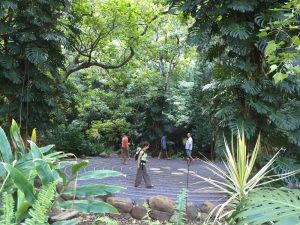 Walk a labyrinth or two! The Sacred Garden has two labyrinths—walking meditations or contemplative paths that are equally loved by children and adults. Whether walked for "fun" or for clarity, stress release and self-discovery, it is an experience not to be missed.  If you are on Maui for the full moon, come to the full moon labyrinth walk!
Write in the community journals….or read what others have written! We have journals available that everyone can contribute to…snuggle up to read the thoughts, insights, prayers and ideas of others, or contribute your own creativity, draw a picture, share your experiences!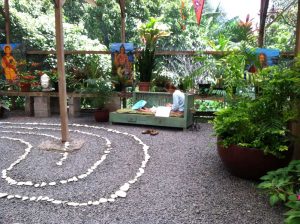 Write a Haiku in Haiku! A Haiku poem has 5 syllables in the first line, 7 syllables in the next line and 5 in the final line. Ironically enough, the prefix for phone numbers in Haiku is 5-7-5!
The Sacred Garden (5),
Fills me with serenity (7),
I breathe peace deeply (5)
While the mailing address of The Sacred Garden is Makawao, our property straddles the Haiku boundary….so what better thing to do in Haiku than to write a haiku!?
Create a fairy garden! We have all the ingredients available for you to create your own fairy garden—from dish garden pots, to succulents, to fairy furniture! OR you can bring your own containers and we'll help you add the plants and pathways.
Make a Living Shrine! Not into fairies? Create a living shrine to the deity of your choice. We have beautiful statuary of Jesus, Mary, Tara, Kwan Yin, St. Francis, Buddha and more….Create a miniature Sacred Garden that you can take home with you…or if you are a visitor, gather the ingredients to make your Living Shrine at home!
Sit in front of the world's most beautiful Buddha! I have seen a lot of Buddha statues, but never one as beautiful and peaceful as this. See if you can catch him smiling! It doesn't matter what your religious background, you will feel peaceful and serene in the presence of The Sacred Garden Buddha.
Meditate in the Mother Shrine! The Mother Shrine honors God in the feminine form…Mary, Durga, Kwan Yin, Tara, Pele…and it offers a more private setting for meditating or praying. It is also an excellent place to send love to your own mom…wherever she may be.
Bring a picnic and settle in at one of our many sitting areas….
Take Pictures! Photographers are welcome! All we ask is that you tell everyone where your beautiful pictures were taken. We are not the "secret garden" we are The Sacred Garden and can use all the word of mouth promotion as we can get! If you are a professional photographer making money from the pictures you take, we would love a donation to the garden, fully tax deductible of course. Thank you and enjoy!
Draw, paint, or create in your preferred artistic endeavor! We invite you to bring your art supplies and enjoy creating in the garden or visit our art table where paper and pens are provided….or draw in the community journals! We even invite you to draw on our paper bags and leave your creation for us to give to our customers when they make a purchase…We "pay it forward" by sending them off with your loving creation or message on the bag!
Bring an instrument and serenade the Buddha…or the visitors!
Shop! The Sacred Garden store has fun, creative, beautiful and inspiring items…and is the exclusive outlet for Wild Earth Blessings scarves and notecards!
All proceeds from your purchases from our garden store and all plant purchases go 100% to supporting the Divine Nature Alliance (501c3—public charity) that supports The Sacred Garden. The DNA sponsors the admission fee so that no one is denied the opportunity to experience peace.
Donate! All donations to The Sacred Garden/Divine Nature Alliance are tax deductible and contribute to our ability to keep the garden open free to the public 7 days a week, add improvements for visitors to enjoy like the new labyrinth (after our flood) and a new roof, as well as constant additions to the features of the garden and community projects.
Volunteer! The garden has a never ending list of "to do's" so feel free to offer your services! We will happily put you to work in the world's most beautiful setting. When you are done, you will wonder whether it was you who served the garden or the garden that served you. We will all be grateful!
Download our The Sacred Garden Brochure