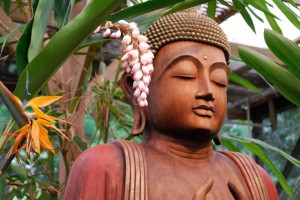 The Buddha Garden in The Sacred Garden Nursery may well be one of the most beautiful Buddha statues in the world. 500-600 pounds of solid Balinese Monkey Pod, he is made from a single piece of wood, carved by a master artist in Bali.
How he came to be in The Sacred Garden is a great story.…. He has been in the garden since 2006.
One of the things so special about this Buddha is that you can feel the peace and serenity of his message, and admire the beauty of the statue regardless of your religions beliefs or preferences. It is nearly impossible to remain unhappy or depressed in the presence of the Buddha…and if you sit in front of him long enough, you may well see him smiling—and you will not be able to help but smile too!
The light is constantly changing in the garden and as it does, it seems like the Buddha's moods change as well. Whether by daylight or moonlight, one cannot help but be moved by the ever-changing sight….