In the 21st century, we must be capable of finding ways to bring about peace other than waging a war. WE MUST WAGE A PEACE!
Let's do more than pray for world peace, let's claim our part in it,
"Peace Starts Here!"
Click Here for PEACE STARTS HERE PRODUCTS
 "It is more difficult to organize a peace than to win a war;
but the fruits of victory will be lost if the peace is not organized."
—Aristotle
"When the power of love overcomes the love of power, the world will know peace."
 —Jimi Hendrix
The BIG VISION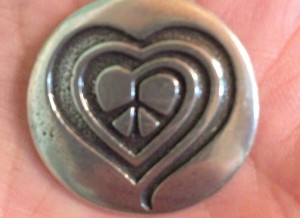 The Insight: In this day and age there is a lot of talk about the desire for world peace. However, in order to achieve this, we must start closer to home. We will not be effective in bringing about world peace when our own communities are at unrest, when our own homes contain domestic violence and when individuals are full of self-hatred. In order to create peace on this planet, we must access the peace in our own hearts. Once reached, we must bring that peace back out into the world and share it with those around us.
The "100th monkey theory" demonstrated the concept that if enough of us hold a vision, set an intention and act on it, that somehow that intention begins to impact others automatically while seemingly unaware. While the Peace Starts Here Movement may not be able to reach everyone directly, with enough critical mass we can raise enough awareness and gain enough commitment to peace that we create peace on planet earth. By encouraging people to train their brain to start with heart, we can change human behavior the world round.
The Mission: Our mission is to create a world in which peace, respect and compassion are the norm and the known choice of every individual and violence, war, and abuse are an abnormality and scarce. We are supporting people in making the decision to care for themselves, each other and the planet we live on. We are encouraging people to get outside in nature for rejuvenation and inspiration. Peace starts with respect for self and others. Respect starts with knowledge and awareness. Knowledge and awareness start with education and heart-opening experiences. That starts here, with the Peace Starts Here movement.
The Peace Starts Here movement is not waging a war, we are waging a peace. Each of us is a critical piece of the peace puzzle.
The Commitment: The Peace Starts Here Project is committed to providing environments for, and education on how to access inner peace and relationship skills for sharing that peace with others.
The Organization: The Peace Starts Here movement is run by the Divine Nature Alliance, a 501(c)3 public charity.
The Logo Emblem: The Peace Starts Here logo is a powerful reminder that peace starts in our hearts; we must journey the path inward to access it and then bring that sense of peace back out into the world to act on it. This is not just a novel concept but on a global level a matter of life and death as we are at a time in history where our technology and weapons of mass destruction can both destroy our human habitat and all living creatures in the process. On an individual level, our inability to access peace is causing record numbers of suicides, homicides, acts of terrorism and a divorce rate skyrocketing toward 60%. In an era of greater connectivity than ever before in history, we have simultaneously achieved greater isolation and disconnection to others than ever before.
We request you purchase (Or draw) the Peace Starts Here logo and take pictures where ever you are or where ever you travel and either email them to us or post them on our Peace Starts Here facebook Page or Instagram, as a reminder that we find peace, we create peace, we carry peace….every where!
The Projects:
Peace Starts Here Logo Products: T-Shirts, pocket stones, necklaces, paperweights for the desk, key chains, lapel pins. These products are meant to be powerful reminders to the individuals that peace starts with them. The logos are put on practical products that will be placed in every day places that people will see often, reminding themselves and others of the mission.
Vows: Each Peace Starts Here product will come with a written set of vows to be read, committed to and signed by the purchaser.  This "vow" also serves as an affirmation of peace and each individual's responsibility for it.
"I am an instrument of peace—first in my heart, then in my home, community and the world. I choose to align my words, thoughts, intentions, actions and choices with my commitment to enhance peace and love on the earth."
The Invitation: We ask everyone to become self-observant and make it your personal practice to choose peace. Then bring this commitment, through action, in every moment of your day. Simply put, we invite you to: Train Your Brain to Start with Heart—and we offer tools and support to show you how.
Stake your claim to Peace!~We have T-shirts of all different sizes, styles and colors so either stop by The Sacred Garden on Maui or CALL US and we'll match you up with the T-shirt of your choice. Some of our T-shirts say Peace Starts Here on both sides with the logo above— a reminder that we must journey into our own hearts to find peace and then bring that peace back out into the world. And some have the new Occupy Your Heart message on the back. we have tanks, long sleeve, 3/4 sleeve, short sleeve…and multiple colors so call for all the options.They are here! Brand new OCCUPY your HEART Shirts!


 

Peace is the Path. Compassion lights the way.