Eve Eschner Hogan is the Executive Director of the Divine Nature Alliance and Founder of The Sacred Garden.
Eve Eschner Hogan is an inspirational speaker, labyrinth facilitator, wedding officiant and author specializing in creating healthy relationships—in the workplace, the home and the heart. Eve is the author of multiple books including Way of the Winding Path, How to Love Your Marriage, Intellectual Foreplay, and Virtual Foreplay.  She is also a writer for Spirituality and Health Magazine's website. Her most recent book is The EROS Equation: A Soul-ution for Relationships.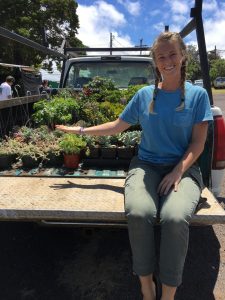 As of Feb. 2018, Madison Walsh is the Manager of The Sacred Garden. She brings amazing love, creativity and plant knowledge to the garden—which is looking more beautiful than ever!
Holly, Emerald, Heidi and Deb are the rest of awesome The Sacred Gardeners blessing the garden with their love and energy!!
People's whose love and effort are still felt in the garden!
Huge love to Joey Huber — Joey was manager of the garden for several years and has recently gone on to new adventures in South Carolina. We will eternally be grateful for the love and creativity Joey offered the garden! Charlie, his tiny dog, was a great blessing too!
Special thanks to Kathy Vaughn a
nd Nancy Blackwelder who served the garden previously with their love, time and effort. Blessings on all of their life's journeys! Their love is still felt in the garden…
And special gratitude for Yinon Shir whose love, sweat and tears were instrumental in the new labyrinth, the new roof and many other back breaking
tasks….including dancing with Bodhi!
Frank Kane spent hundreds of hours loving up the grounds…and helping with the flood clean up, rebuilding the labyrinth and as seen here, dowsing the ley lines of the labyrinth.
And huge thanks to Steve Hogan, who not only tolerates my crazy passions, but lovingly supports them (me) with his hard work. He built the beautiful altar the Buddha sits on and moved mountains to put the new labyrinth in.
In recognition of all the hard work that went before The Sacred Garden….special gratitude to Kevin Johns, Jerry Janiga and George Hahn. All contributed huge amounts of energy and vision, time and money to this beautiful property.
Special love and gratitude to my sister Lauralyn Eschner, whose love, support and encouragement keeps me going! Without her we wouldn't have the beautiful Buddha in the garden