Update: Our beloved Bodhi passed away March 6, 2018, one month before his 9th birthday. We miss his HUGE love every single day. Eve wrote a precious book about him called, "The Spirit of the Labyrinth: A True Tail of Love" and it is available in our gift store.
He came to live at the garden in 2009 when he was just 8 weeks old and already a whopping 20 pounds! With a St. Bernard mom and a Rottweiler dad, he is a St. Weiller.
The name "Bodhi" is short for "Bodhisattva" (Sanskrit: बोधिसत्त्व for Enlightened One) and also the name of the Bodhi Tree which Buddha sat under when he achieved Enlightenment.
Bodhi's mom's name is Angel and his Dad's name is Marley. Here he is with his Mom when he was about 6-8 months old.
Do you see his Angel "tattoo" on his chest?
He came to be in the garden when Angel and her people family came in one day. Eve (the owner of The Sacred Garden) told Angel's "Mom" how much she always wanted a St. Bernard as a child. She said, "Well, Angel is pregnant, I'll let you know when the puppies are born."
Not really seeking a dog at the time, Eve didn't think about it again. A few months later, Eve received a phone call announcing the birth of the puppies. She explained that they really weren't in the market for a puppy, to which the owner suggested, "They are so cute, just come see the puppies!" Eve mentioned the puppies to her husband who sternly said, "NO! Don't go see the puppies!" He knew full well what would happen if she did!
So, Eve didn't follow up or go see the pups….so, the owner brought the puppies into the garden! Where Angel decided to cool off in one of the fish ponds!
Of course, Eve fell in love with the puppies and called her husband. "The puppies are in the garden…."
To which he replied, "NO!"
So she said, "I know. I know. Just come SEE them." Which he did and the rest was history! Bodhi has been the mascot of the garden ever since.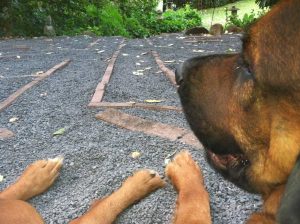 People now come to the garden specifically to see the 180 pound gentle giant. He loves to greet people, hang out in the Mother Shrine while coaching is in session and to sit in the center of the labyrinth to wait for the loving and pets when people reach the center.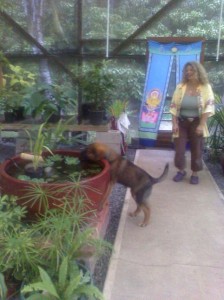 When Bodhi was a baby, he had to stand on his tippy-paws to drink out of the water ponds. Now he walks right over to the huge bowls and they are the perfect height for him!